The Race to the Top of Vermont is BACK in 2022!
Sunday, August 28, 9 am start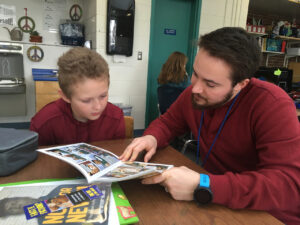 Join Everybody Wins!' team, and keep children reading with their   mentors, no matter what.

Every August, friends of reading climb Mt. Mansfield in the annual Race to the Top of Vermont to raise funds to keep children and mentors reading together. It's 4.3 miles up the Toll Road and a great feeling of success to reach the top of Vermont!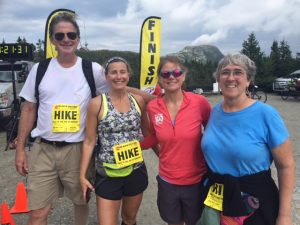 Other friends volunteer for the Race, either on the summit team handing out water & snacks at the finish line, or at the base of the Toll Road helping with registration. I love being on the summit team and cheering on racers as they cross the line. Volunteers also set up a fundraising page and collect donations for Everybody Wins!—they just don't hike, run, or bike up the mountain.
Racers or volunteers, everyone collects pledges or donations from family, friends, colleagues, or neighbors. We will help you with materials and a personal donation page for you to share with your network.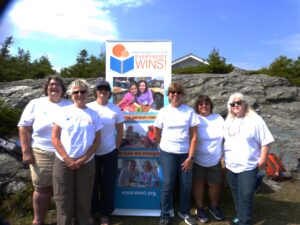 Fundraising from the Race to the Top helps Everybody Wins! recruit and train mentors for the fall, work with schools to find children who are eager to take part, match children with mentors they will love to read with, and set up reading sessions. Come pandemic, mud season, or high water, children will read with their Everybody Wins! mentors this fall—and the Race to the Top helps them start off strong.
The Race to the Top of Vermont has raised as much as $50,000 in past years. This is 15–20% of Everybody Wins!' budget. It makes a huge difference in the number of mentors we can recruit, and our ability to support children and their mentors.
Plus, it's fun! Relax after the Race at the BBQ lunch included in your registration, win fabulous prizes (no joke) at the raffle, and bask in the knowledge that you've made a difference for children.
To join the Everybody Wins! team for the Race to the Top of Vermont:
If you are connected with an Everybody Wins! site, talk with your site coordinator. They can tell you who else is taking part in your community.
Register for the Race to the Top here.  Register as an individual (

not

a team or a group) and use our special code 22everybodyWins30 for a discounted registration fee of $30. It's important to use the code since that tells CTA who is on the Everybody Wins! team.
OR, to volunteer instead of climbing the mountain, email beth@everybodywinsvermont.org.
We'll send you a t-shirt and a welcome packet with more information in the mail.
Create a Just Giving page for your Race, and start spreading the word! (We'll send you directions, examples, and a link when you sign up. And we're always here to help.)
Call Everybody Wins! Vermont at 802-229-2665 or email beth@everybodywinsvermont.org with any questions. We can't wait to see you on August 28th!