By creating mentoring relationships that foster a love of reading and language, Everybody Wins! Vermont increases children's prospects for success and engages a diverse range of volunteers in their community schools.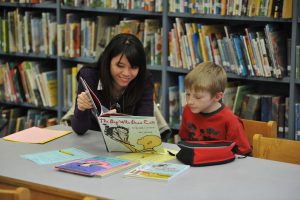 Through our Power Lunch program, adult volunteers are matched with children at local elementary schools to promote reading for pleasure, to build the children's self-confidence and enhance their self-esteem, and to serve as caring role models. The pairs meet weekly at lunchtime to share books and develop lasting relationships.
Since opening our first two sites in Barre and Rutland in October of 2000, Everybody Wins! Vermont has grown to become Vermont's largest mentoring organization. In 2015-16, over 600 children read with mentors at 23 school sites in Vermont and one in New Hampshire.
Our central office in Montpelier is generously donated by FairPoint Communications.