Come work for Everybody Wins! Vermont, and help children LOVE to read so they have a better chance at a good life when they grow up.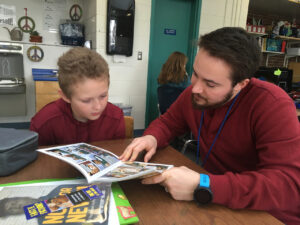 Everybody Wins! is seeking site coordinators to manage our reading mentoring program in schools in the following communities:
Barre City
Barton
Orange County: Chelsea, Tunbridge, Westshire schools (may be one or two positions)
These are all part time positions, typically 10-14 hours/week during the school year depending on the school. They follow the school schedule and have minimal hours during the summer to manage mentor recruitment and our mentor  pen pal program. The hourly wage starts at $15/hour.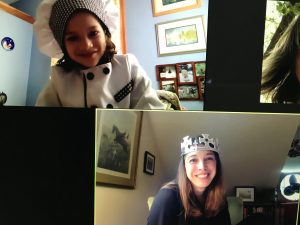 In 2021-22 , in all schools, coordinators are expected to work in schools with children with precautions including HEPA filters, masks, and disinfection. In some schools, mentors are remote using either Zoom or Google Meet depending on the school. In schools where volunteers are allowed, mentoring may be in person or remote depending on the mentor, the child, and school logistics.
Everybody Wins! does not require staff to be vaccinated against COVID-19 or to reveal their vaccination status, but staff must meet the requirements of any school they work in, and schools typically require vaccination for both staff and mentors.
Site Coordinator job description: Everybody Wins coord job descr 2021
To express interest, send a letter of interest and a resume or job history to Beth Wallace, Executive Director: info@everybodywinsvermont.org.
Everybody Wins! Vermont is an equal opportunity employer and does not discriminate on the basis of race, sex, gender, sexual identity, color, national origin, religion, disability, class, or age in hiring, programs, or activities.