"Paul was one of the best humans I have had the pleasure to know." —Sue Cook, former Everybody Wins! board member
All of us at Everybody Wins! Vermont are heartbroken by the death of mentor, former Board President, and friend Paul Rosenberg from cancer on July 10th. Our hearts go out to his family, who we know miss him even more than we do.
Paul was a committed mentor who read with three different children at Shelburne Community School in the past five years. Paul was so committed to children that when one of his mentees moved to another community on the other side of Burlington, Paul drove to the new school every week to continue reading with him. Even during this last year of chemotherapy in Boston, Paul continued to read with his mentee whenever he was able.
One of my favorite stories about Paul describes his first meeting with a new mentee. The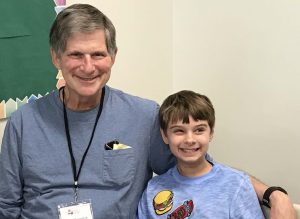 second grader was so shy that when he was introduced to Paul, he turned away and put his face against the wall. With some persuasion, he walked silently down the hall next to Paul to get his lunch. Paul tried one conversational gambit after another without any response. Finally, he said, "I have a dog named Hops. Do you have a dog?" The child's head came up, he looked Paul in the eye for the first time, and said all in one breath, "I-have-a-dog-his-name-is-Rocky!" They were off.
Paul changed children's lives with his commitment, his humor, and above all, his kindness.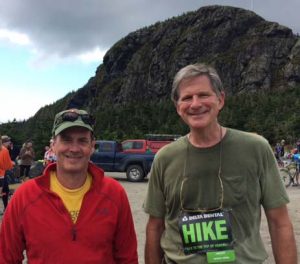 Paul also changed Everybody Wins! Vermont. He joined the board in his first year of mentoring. He enthusiastically took part in the annual Race to the Top in order to help the organization achieve financial stability. The coordinator of Everybody Wins! at Edmunds School in Burlington, Wanda Stetson, remembers, ""He was a giant of a man—kind, compassionate, and a devoted supporter of mentoring children.  My daughter and I hiked a stretch of the Toll Road Race to the Top with Paul in 2017.  He was so encouraging and his sense of humor kept us going."
Paul took on the president's role with typical verve and intelligence. You could find Paul talking with funders, dishing up ice cream at a parent event, calling board members to check in and offer support, or working his way around the room at a staff meeting.  He tackled organizational challenges with patience, thoughtfulness, and integrity.
Paul was famous for bringing his dog Hops to our Montpelier office for meetings. We'll never forget the day that Hops followed one of the Consolidated technicians out of the building while Paul was engaged in discussion. The meeting broke up abruptly as we all searched the building and then ran outside calling for Hops. After a few frantic minutes, Hops was discovered  peacefully sniffing around the Lighthouse Christian Church down the block.
Paul showed up for children and for the organization with enthusiasm and determination, and we are stronger because of his thoughtful stewardship. Former board member Joe Doud spoke for us all when he said, "Paul had an infectious attitude, and anything he was part of was instantly made better because of his presence in the room."
We were lucky to have Paul on our side, and he is deeply missed.