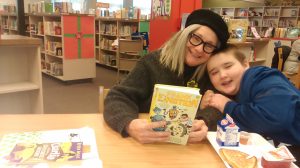 "She's kind. We get to read lots of books and talk about them. I get to talk with someone and spend time with them during the day." —Waterbury child, 2019
"He learns a lot of different things he didn't know before. He reads a lot better and slower. He is very positive about his future." —Barre parent, 2019
These quotes from our annual survey in May 2019 says it all: children love having Everybody Wins! reading mentors, and parents and teachers see what a difference that one hour a week makes in the life of a child.
Everybody Wins! Vermont is entering our 20th year.  In 2018-19, over 600 children read each week with Everybody Wins! mentors.
As we have every August for 12 years, a team of supporters is preparing to climb  Vermont's highest mountain, Mt. Mansfield, on August 25th.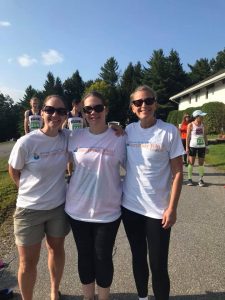 We take part in the Catamount Trail Association's Race to the Top of Vermont in order to  keep children around Vermont reading with mentors every year. The Toll Road winds for 4.3 miles up the mountain, gaining 2564 feet of altitude in the process. It's not an easy hike—but as the Race's sponsor CTA says, "Isn't that the point?"
The money we raise in the Race to the Top helps us start off strong each year. Last year, we added two new sites. This year, we are creating infrastructure and systems so we can expand again in 2020, and keep finding mentors for children for another 20 years.
It's a great feeling to get to the Mt. Mansfield summit on a summer's day. It's even better knowing that you've helped make things better for kids and supported communities around the state. Won't you help us keep them reading?
Click here to support the Everybody Wins! team in the Race to the Top 2019.
Next year, sign up, and come along for the hike!